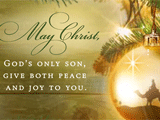 Just two more sleeps and Christmas will be here! If the weatherman is correct, it should snow here on Christmas Day!
Christmas isn't the same when you don't have children around to maintain the wonder and excitement of the day. This year Hubby and I have chosen to stay close to home and do our visiting on Christmas Eve. Christmas dinner will be ham, baked beans, broccoli casserole, fruit salad, jello salad, homemade rolls, Dutch apple pie and cheesecake. Christmas morning we will have semi-homemade cinnamon rolls and coffee and starve ourselves until our dinner around 2:00.
Here is a new twist on cinnamon rolls I'm going to try Christmas morning:
1 bag frozen cinnamon rolls (12 count)
1/2 cup granulated sugar
1/2 cup brown sugar
1/2 cup melted vanilla ice cream (measure after it's melted)
5 Tbsp butter
Put frozen rolls into a buttered 9x13 pan. Put the sugars, ice cream and butter into a saucepan and bring to a boil and cook for 1 minute. Pour this mixture over the frozen rolls. Place in cold oven overnight. In the morning bake at 350 degrees for about 25 minutes and drizzle the icing that came with the rolls over the top.
I have a reliable source that promises these are wonderful!!
Wherever you are, however you choose to spend your holidays, we wish you joy, peace and love...
Barb, Jeff and Miss Molly